Madhuchhanda Banerji
27 March 2017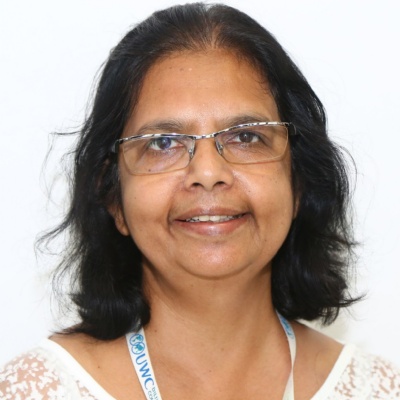 Teacher of Science and Head of Residential Life & Designated Safeguarding Lead, UWC Dilijan
Madhu started her career as a research scientist in the Department of Zoology, University of Delhi. During her teaching career, she has worked in various schools in the UK and countries in Africa in different capacities, which included positions of Head of Sciences, IBDP coordinator and Head of Boarding. She presently remains an examiner for IB, Cambridge and EDEXCEL in the subject of Biology.
While in her teaching career, she had always wanted to work at a UWC. Firstly, the UWC movement is based on a mission and vision that is so very important in today's world where national identity is becoming more valued than developing a global outlook. This she feels tends to limit our holistic vision and brings about a negative impact in our development. It is a privilege to teach UWC students, who are special in breaking those barriers of ultra-nationalism and take a leadership role in making this world borderless, where there is a valued understanding and celebration of diversity, be it in the field of culture, languages or in the realm of ideas. Secondly, the whole concept of International Baccalaureate (IB) was developed in UWC; she wanted to come to the heart of IB as an experienced teacher and interact with quality professionals to shape in turn the lives of some of the most talented and gifted students globally.
"My best experience at UWC Dilijan has been getting to know so many amazing talented young people from all over the world. In the middle of so much disharmony around the world, UWC is an oasis where harmonious existence of students from eighty plus nationalities restores my faith in our future."